Joint Chinese Ltd passed Validated Assessment Program (VAP) Audit
Joint Chinese Ltd passed Validated Assessment Program (VAP) Audit
Congratulations to Joint Chinese Ltd for passing Validated Assessment Program (VAP) audit , which is the one of the most essential RBA programs (Responsible Business Alliance).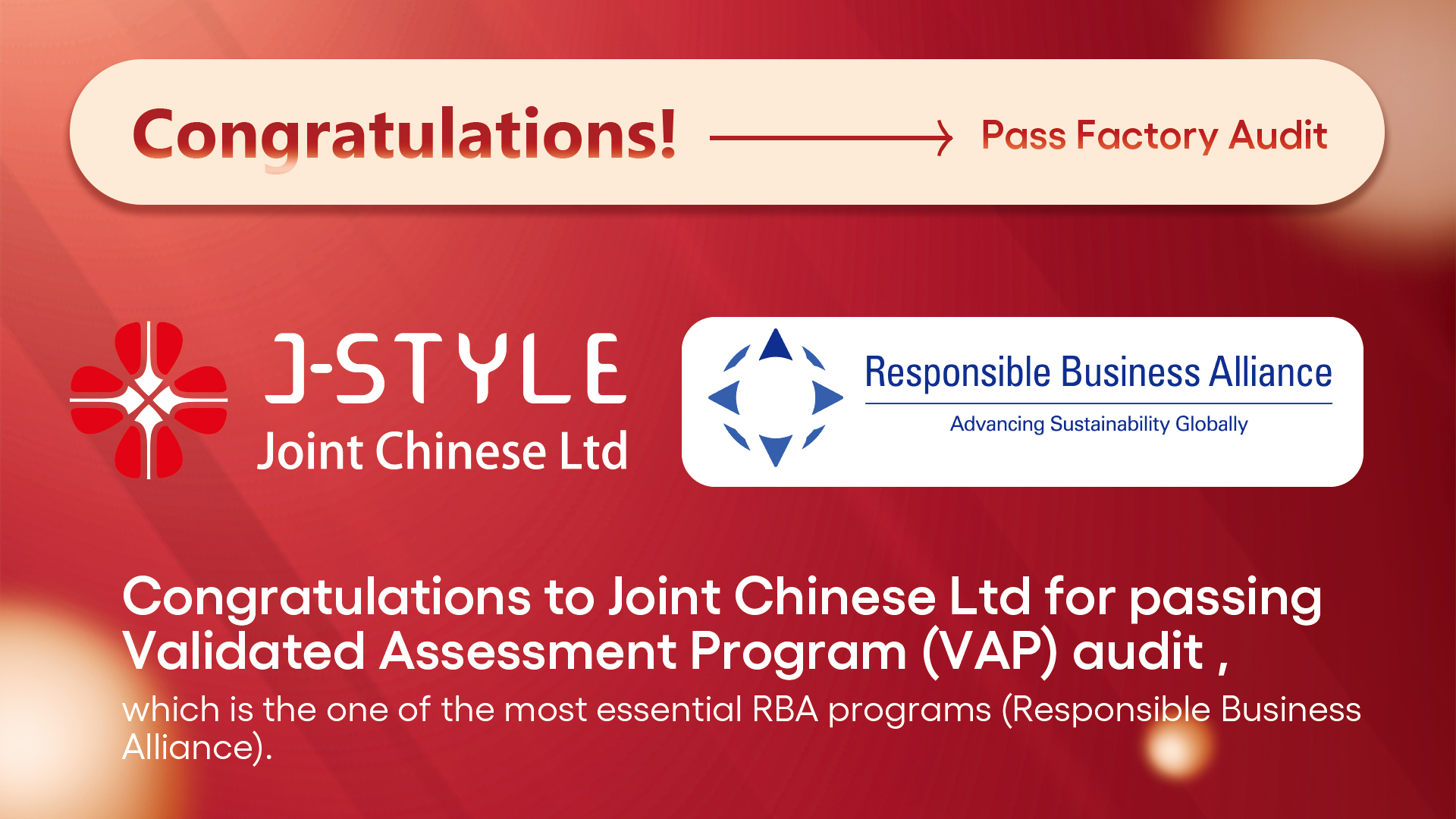 The Validated initial audit of Joint Chinese Ltd. is evaluated the facility's labor, ethics, occupational health & safety, environmental practices, and supporting management systems against the requirements of the RBA Code 7.0.1, relevant local rules and regulations, national legislation. The audit is performed during November 28~29, 2022.
The duration is 2-person days for 2 auditors. It is a full scope audit of all manufacturing building. No integrity issues are encountered during the audit. The audit findings are based on objective evidence gathered through management, staff and worker interviews, pertinent documents and records and workplace observations. There are 5 major noncompliance issues identified by the audit team, no priority noncompliance issue identified.
Joint Chinese Ltd (J-Style) is leading manufacturer & solution provider for digital health products including wearable and medical devices. We can provide complete solution for your brand with manufacturing capability. Our vision is to bring wearable technology in daily life to make everybody healthier. We have our own R&D base (70+ engineers) to realize the idea into real product and our own factory (400+ workers) located in Shenzhen. Our main product is Digital Health wearable with variety of vital sign monitor including Heart Rate, Blood Glucose, Blood Pressure, Blood Oxygen Level, ECG, Blood Pressure, HRV, Stress, Temperature, BMI, and GPS tracker, etc. Our future plan is for medical accuracy product, and to be the leader of the medical accuracy smart wearable device.
With the RBA factory audit, it will help our partners to better sell the products to big brands or retailers. Welcome to connect at email address: info@jointcorp.com.