Joint Chinese Limited & Actxa Jointly Launch Actxa's Non-Invasive Blood Glucose Monitoring Technology
Singapore, 3 August 2022 – Actxa Pte. Ltd ("Actxa") and Joint Chinese Limited ("JC") alongside its associated group of companies, signed a Memorandum of Understanding ("MOU") on 2 August 2022, to join hands in market penetration and expansion for Pre-M DiabetesTM, also known as the Non-Invasive Blood Glucose Monitoring technology.
We will be targeting the consumer wearables, senior care, and home care segment in China. Both will also work closely on the worldwide distribution of JC's wearables powered by Pre-M DiabetesTM.
Actxa and JC will collaborate to incorporate Pre-M DiabetesTM and other physiological health insights ("Actxa Insights") in JC's products and services, develop business and establish marketing and brand presence in China. Both sides will also be involved in research collaborations in China to further develop Actxa Insights.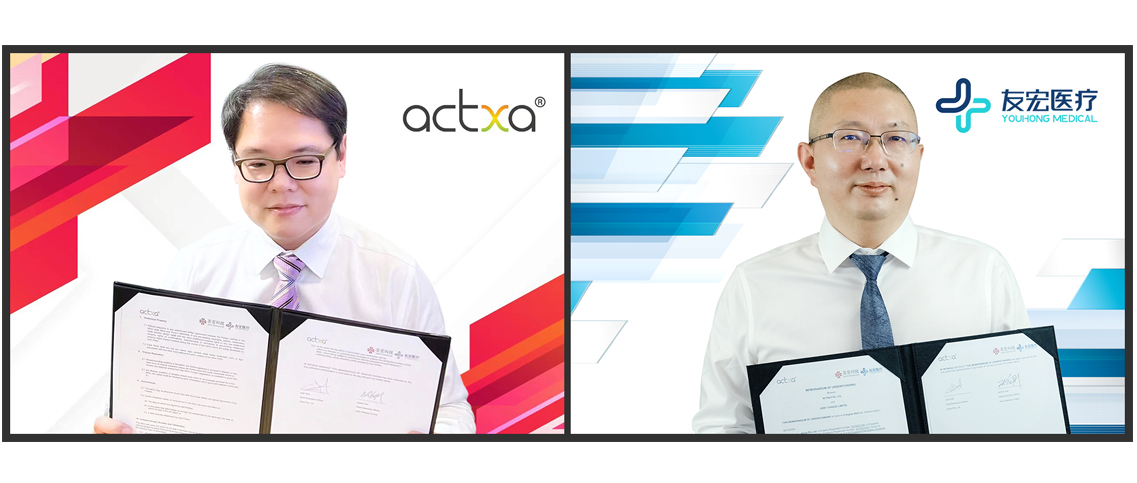 JC is a leading manufacturer and solution provider for digital health wearables in China. JC has identified at least 11 models of their wearables that have the potential to include Pre-M DiabetesTM to ship within China and worldwide.
Actxa is the first Singapore company to develop a comprehensive AI solution that leverages consumer-grade wearables to detect blood glucose dysregulation. The Pre-M DiabetesTM is also the only non-invasive blood glucose detection solution to be going through a clinical validation study in Southeast Asia.
In Singapore, at least 1 million people are projected to have diabetes by 2050, and 1 out of 4 will be undiagnosed1. Worldwide, about 643 million people will be diabetic by 2030, and 1 in 2 adults will be undiagnosed2. Through regular blood glucose monitoring, the increased risk for developing diabetes can be detected early.
The launch of the Pre-M DiabetesTM allows individuals to monitor their blood glucose levels in a pain-free, easy and frequent way. The regular measurement of blood glucose will help individuals prevent, delay the onset or in some situations, even reverse the condition.
Joel Chin, Actxa's Chief Executive Officer, said, "This MOU builds on our existing strong partnership with JC, and we are honored to collaborate with JC in launching and distributing the Pre-M DiabetesTM in China and globally.
This strategic alliance leverages the strengths of both companies to create a significant impact in the global fight against diabetes. We are confident that Pre-M DiabetesTM will help individuals make informed health decisions and make lifestyle changes to reduce the risk of developing Type 2 diabetes."
Mr. James Yan, Chief Executive Officer of Joint Chinese Limited, said, "Actxa and Joint Chinese Limited are forerunners in wearable technology, and the cooperation between the two parties has entered the eighth year. Focusing on cutting-edge technologies related to human health, both teams have constantly worked together to improve the synergy and uncover tacit knowledge to drive more innovation. The accuracy of data collection has also improved.
The series of Pre-M DiabetesTM products is the result of our joint efforts, boosting new opportunities in the global preventive health market. Joint Chinese Limited will continue to sustain and pursue quality work while achieving success with Actxa."
The Pre-M DiabetesTM has also won Actxa an award under the AI - Healthcare Technology category in the annual SBR Technology Excellence Awards, hosted by Singapore Business Review. The SBR Technology Excellence Awards is part of the regional Asian Technology Excellence Awards now running in 50 countries.3
References:
1. https://www.healthhub.sg/live-healthy/1273/d-day-for-diabetes
2. https://idf.org/aboutdiabetes/what-is-diabetes/facts-figures.html#:~:text=The%20total%20number%20of%20people,living%20with%20diabetes%20are%20undiagnosed
3. https://sbr.com.sg/event-news/actxa-wins-ai-award-its-non-invasive-blood-glucose-monitoring-project
Reference Link for J-Style Non-Invasive Glucose Smart Watch:
https://www.jointcorp.com/smart-watch/2025f-smart-blood-glucose-watch.html
https://www.jointcorp.com/smart-watch/2051f-amoled-smart-blood-glucose-watch.html