J-Style Wearable Healthcare Technology
Wearable technology in healthcare includes electronic devices that consumers can wear, like smart bands and smartwatches, and are designed to collect data on users' personal health and exercise. These devices can even send a user's health information to a doctor or other healthcare professional in real-time. Demand for wearables is projected to jump in the next few years as more consumers exhibit interest in sharing their wearable data with their providers and insurers.
The advancement of wearable technology and growing demand from consumers to take control of their own health has influenced the medical industry, including insurers, providers, and technology companies, to develop more wearable devices.
Some of the simplest and most original forms of wearable technology, wearable fitness trackers, are wristbands equipped with sensors to keep track of the user's physical activity and heart rate. They provide wearers with health and fitness recommendations by syncing to various smartphone apps.
Once only used to count steps and tell time, smartwatches have now transformed into clinically viable healthcare tools. Most of our J-Style Wearable series is packed with a blood oxygen saturation monitor, sleep-tracking capabilities, electrocardiogram (ECG) sensor, HRV, stress monitor, and other different vital signs. J-Style Wearables allow users to perform tasks they normally do on their phones-read notifications, send simple messages, and make phone calls - while also offering some of the exercise- and health-tracking benefits of fitness trackers.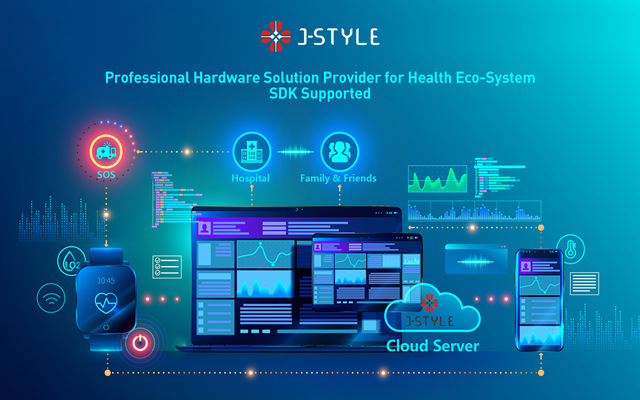 A Glance of J-Style Wearable Health Eco-System
This upward trend in wearable fitness technology will influence the decision of insurers, health providers, and companies to take advantage of the benefits of wearable health monitoring devices.
Insurers can lessen the rising cost per patient by using wearables as a means of increasing customer lifetime value. Wearable technology incentivizes behavior that reduces hospital visits and readmissions due to poorly managed personal health – 75% of users agree that wearables help them engage with their own health.
Companies are also seeing benefits in offering wearable healthcare technology to employees. According to Insider Intelligence, healthier corporate culture is shown to reduce employee turnover – employers who offer five or more well-being 'best practices' had an average turnover of 18%, compared to 29% for those that offer two or fewer.
The consumer use of wearables will continue to grow as wearable technology becomes more conventional. Moreover, device connectivity will expand as more accurate wearable sensors are developed, opening the door for insurers and employers to influence healthy lifestyles and boost profitability.